06/06/10
Ingredients:
4 oz butter/margarine

4 oz sugar

2 eggs

4 oz plain flour + 1 ts baking powder (or 4 oz self rasing flour)

2-3 drops of vanilla essence (or 1 ts vanilla sugar)

Jam or syrup (our choice today was cloudberry jam - nam-nam)
Directions:
Spray the oven proof bowl and add a few spoons of your choice of jam or syrup
Cream butter and sugar. Beat inn eggs. Gradually add flour/baking powder. Do not mix or beat dough too much. Stir in 2-3 drops of vanilla essence. Add a little bit of water to make the consistency such that it falls off the spoon.
Pour dough over the jam/syrup. Spread the dough to form a dip in the middle of the bowl as it will rise more there than along the edges.
Normally we would then steam it in a large pan for 1.5 hours. Today we were peckish and needed quicker results. So we baked it at 160 celsius for 50 minutes.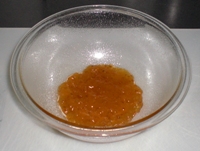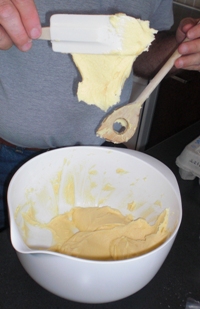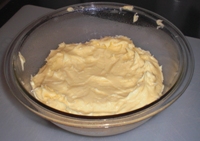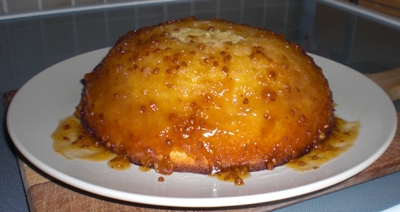 Ingredients:
1 litre butter milk

5 dl sour cream

1/2 kg sugar

2 ts baking powder

2 ts bicarbonate of soda

1.5 kg plain flour
Directions:
Mix all milk, sour cream, ingredients and add enough flour for a dough good for rolling into thin lefser. Divide the dough into pieces large/small enough to fit your "takke"/crepe maker. Roll the pieces thinly according to your own preference. If you have a knobbly rolling pin in addition to the smooth one, you can use it to get the traditional surface pattern and texture (see picture below).
Traditionally the dough should be rolled to 2-3 millimetres thin lefser and baked quickly on the "takke". However, it is also quite nice to make them thicker especially if you will eat them immediately after baking them (they become soft and delicious). Given our usual impatience we typically end up with the thicker ones!
Traditionally we would dry the thin lefser out after baking them and they would keep well in a cool dry place. Then at a later stage, when you want to eat them, you moisten them under the water tap and leave them between two pieces of cloth until they are soft again.
Whether you eat them now or later, spread with butter/margarine and sprinkle with sugar and cinnamon. Hild will eat this with anything yummy including brunost (Norwegian goat cheese)! Try different things and see how it tastes.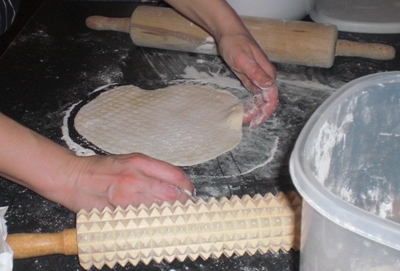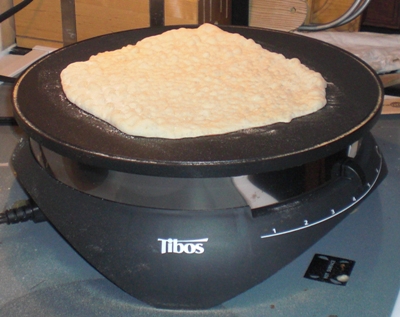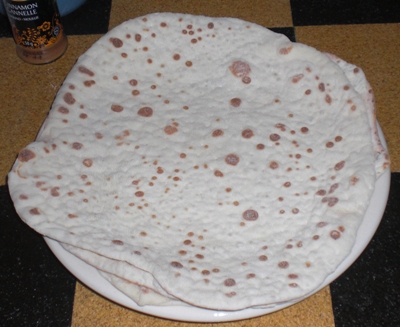 Comments Off
Ingredients:
Directions:
Mix the milk and bicarbonate of soda and let it rest for 3-4 minutes until it is frothy. Mix eggs and sugar. Add the milk/bicarbonate of soda mixture and finally the baking powder and flour. Leave the batter to rest for at least 30 minutes. Make the takkekaker on a "takke" or crepe maker as shown on the photos below.
Serve warm or cold with butter/margarine, sugar, cinnamon, jam, cheese, or other nam-nam stuff. The takkekaker are also great to freeze and thaw when you need a last minute snack one night!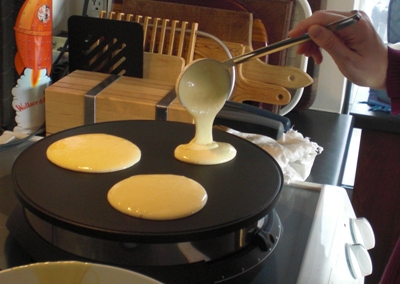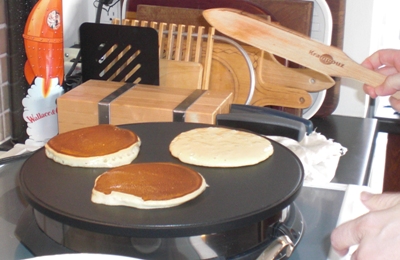 Comments Off