03/21/10
Looking for more fun things to cook on the takke (crepe-maker) Hild wanted to get some egg-rings and I thought "crumpets, mmmmm" which would need deeper rings. As usual, we got both types and then I looked up a crumpet recipe in my Delia (the usual stand-by for this kind of thing). It turned out pretty well so I thought I'd add it here.
Ingredients:
10 oz milk (275 ml)
2 oz water (55 ml)
1 teaspoon caster sugar
1 tablespoon dried yeast
8 oz plain flour (225 g)
1 teaspoon salt
Directions:
Warm the milk and water and dissolve the sugar and yeast in the liquid. Keep it somewhere warm for 15 minutes until there is good 'head' on the yeast. Slowly add the yeast mixture to the flour and salt beating it well to make a smooth batter. Leave in a warm place for 45 minutes until it gets nice and fluffy.
Heat the takke to 5 (the middle setting) and spray rings with oil (so the batter doesn't stick) and get them warm on the takke. Fill the ring about 2/3 or 3/4 with the batter and let it cook until the bubbles burst on the top. When you can see the edges are set where they touch the ring, then you can lift up the ring leaving the crumpet behind. When the crumpets are almost completely set on the top, flip them over for a minute or so to brown on the top. Then just eat them warm with jam!
If they are left to go cold, we figure they can be warmed up again in a toaster or under the grill - we'll let you know if that works if we ever get to that stage …..
03/14/10
Most evenings when we realise that it is dinner time we just make sandwiches, something we've been told is very boring. This is true, so last week we were inspired to explore the fridge and see what needed eating and whether they added up to a meal. We ended up with a quiche - a standard way of eating left-overs!
Pastry:
Preheat oven to 180 Celsius. Mix all ingredients and knead the dough enough for it to be rolled out (not any longer). Roll the pastry thin enough to line the quiche dish (ours was 19cm in diametre). Bake it in the oven for 20 minutes
Filling (approximate as it was whatever we had left in the fridge!):
Cook the spinach in the butter. Add the remaining ingredients and cook for a while longer. Add the filling to the baked pastry. Bake quiche for another 10 minutes.
Topping:
Peel and slice the apple into thin slithers. Cover the quiche in apples and grated cheese. Bake quiche for another 10 minutes or until the cheese is light brown.
Photos of the pastry and the finished quiche: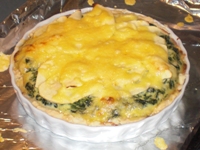 After a mini-holiday skiing in Mont-Tremblant, Quebec, we were inspired to buy a crepe maker. We were inspired after having two meals at Crêperie Catherine - dinner one day and returning the next day for dessert. We had front-row seats to see how the crepes were made in their little kitchen. To a Norwegian, a crepe maker is simply a small "takke" on which we make lefse (see recipe for hardangerlefse). We also predict many other uses for a crepe maker including making quesadillas or simply warming up tortillas filled with all sorts of goodness. That would be more interesting than sandwiches, for sure!
Crepe ingredients - Alternative 1 (UK/Delia crepes):
6 oz plain flour

a pinch of salt

2 large eggs

7 fl oz low-fat milk

3 fl oz water
Crepe ingredients - Alternative 2 (crepe recipe - came witht he crepe maker):
2 1/4 cup flour

1 teaspoon salt

(1 tablespoon sugar)

1 egg

1 cup water

1 1/3 cup low-fat milk
Crepe ingredients - Alternative 3 (Norwegian pannekaker):
Mix the eggs, milk and water gradually to the flour and salt.
Avoid getting a lumpy batter.
If you are unlucky (like we frequently are), simply strain the batter before cooking the crepes.
Heat up the crepe maker (our brand needs mark 4-5). Put sufficient amount of batter to the middle of the crepe maker and use a crepe-scraper to spread the batter in a smooth and circular motion.
We are still applying the trial-and-error method to determine how much batter and how to spread it evenly…. simply eat the errors.
Cook the crepe 10-15 seconds on each side.
Flip the crepe back to the first side and add filling as you like.
Some of the crepe fillings that we've tried:
Sliced/chopped ham, grated swiss cheese, a dash of maple syrup, freshly grated pepper

Peeled/sliced sweet apples, thinly sliced brie, a dash of maple syrup, freshly grated pepper

1 beaten egg, sliced/chopped ham, grated cheese

Ricotta cheese, handful of fresh baby spinach, freshly grated pepper

Ricotta cheese,

peeled/sliced sweet apples, a dash of maple syrup (this one got a bit too soggy!)

Italian meatballs, fresh mozzarella cheese, tomato sauce (e.g. Prego)

Slices of steamed salmon, peas, sweet corn, tzatziki sauce

We haven't tried sweet ones yet, but we're picturing chocolate sauce, bananas, berries, manchar…. nam nam
We prefer to put the filling in the middle of the crepe and fold in the sides twice to make an envelope. This crepe-envelope can be flipped over and cooked/heated on both sides. For easy taste testing with family and friends we have loaded the filling down the middle of the crepe and folded over once to slice it up in several pieces.
I'm sure we'll think of more ways of doing this as just about everything we eat now 'goes' past the crepe maker!!!
Some photos: (1) Rob adding batter to the crepe maker. (2) Ham and cheese filling. (3) Apple, brie and maple syrup