11/03/12
We love blautkake. This yummy Norwegian layer cake can be decorated for any special occasion and we had a Halloween party coming up. For us, a blautkake should have whipped cream filling and a marzipan cover. Hild had the idea that this time she wanted to make a half-and-half cake with a marzipan cover on one half of the cake and a more common (in North America) icing cover on the other half. The other part of the idea was to decorate it with a cobweb pattern and a huge big spider.
Note that "blautkake" translated directly from Norwegian means "soft cake" although Rob prefers to translate it as "soggy cake". The soggier the better - to a point. Ho-hum.
Sponge Ingredients (for one 20 cm diameter cake with three layers):
4 large eggs
2 dl sugar
1 dl potato flour (I used corn flour and it turned out OK)
1 dl plain flour
2 teaspoons baking powder
melted butter to grease the tin
Decorations:
2.5 dl whipping cream
1 dl Ribena juice (or more for more blood-effect. In Norway we would have used "husholdningssaft")
1.5 dl seedless strawberry jam (or more for more blood-effect)
2.5 dl mandarin wedges in fruit juice (or more for more bits-of-brain-effect)
100 gr marzipan (200 gr for complete cake cover)
2 dl ready-made spreadable icing (or double the amount if you do not plan for a marzipan cover)
2 dl icing sugar
food and icing colouring (yellow and black would be best for our party but we only had red and black)
Directions:
Pre-heat the oven to 200 celsius. Whisk eggs and sugar until it thickens. Carefully fold in a mix of potato flour, flour, and baking powder. Fold for an even mix but as little as possible. Melt butter and grease the tin (or use any other way of greasing the tin). Pour the mix into the tin and place it on the middle oven rack. Bake it for 25-35 minutes until it is ligth brown on the outside and baked through. Leave the cake to cool for a few minutes and remove it from the tin. When the cake has cooled down, cut it into three even layers.
This is when one can try different things to decorate the cake evey time. We prepared our layers like this:
Douse the bottom layer with Ribena. We should have used more to make the cake look more "bloody" for Halloween. Whip the cream until it thickens. Cover the layer in a mix of some of the whipped cream and strawberry jam.
Put the second layer on top of the cream/jam layer. To make the middle layer moist, douse it with juice from the mandarins. Spread whipped cream on this layer, spread a layer of mandarin wedges and another layer of whipped cream.
Put the top cake layer on and douse it with Ribena. Spread strawberry jam over the layer and another layer of whipped cream before covering the cake with marzipan. We only covered half the cake in marzipan. On the other half we spread the ready-made icing (vanilla flavour with some of our own red colouring. If we had had yellow colouring we could have gotten a more fun orange Hallween colour).
To make the cobweb effect we mixed icing sugar with black food colouring and some water. Note of caution: don't overdo the colouring unless you want your guests to go home with black mouths and lips! We had planned to find an edible chocolate spider for extra decoration, but we weren't able to find one. So the one in the final photos below is fake fake fake. The cake was definitely nam nam. Keep in mind that leaving any left-over cake covered in the fridge overnight does NOT make it any less nam nam!
Photos:
1. Dousing the second layer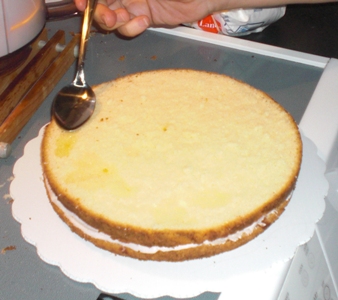 2. Mandarins in the second layer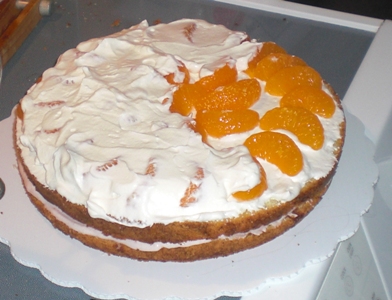 3. Dousing the top layer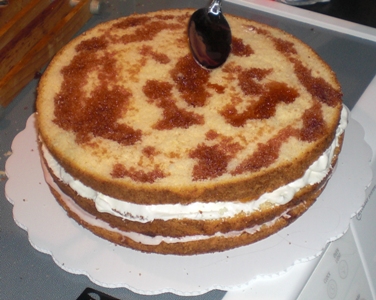 4. Cobweb icing on marzipan and icing top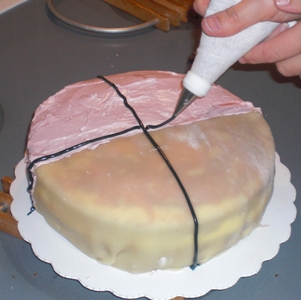 5. Finished cobweb icing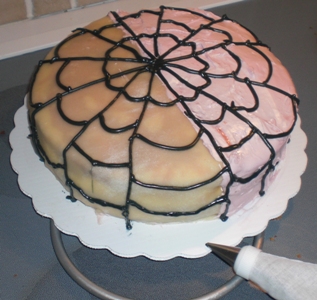 6. Spider guarding the cake.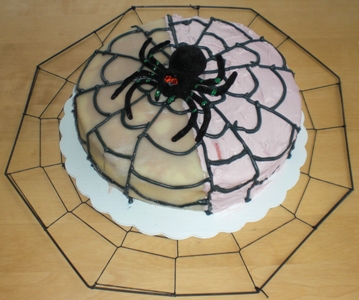 Comments Off
11/07/10
Initially our plan was to make calzone pizza, but then we remembered last time we made those. We made way too big calzones and ate them all…. piglets. So here is an option for a smaller dinner - maybe…
Ingredients (see also 'Skulebrød' - http://namnam.rygnestad.net/?p=28)
Dough for 6 horns:
20 grams butter (could also use 1/4

dl

oil)
2.5

dl

water (could also be milk)
1 rounded teaspoon dry yeast
1/2 teaspoon salt
1 teaspoon sugar
ca. 6-7

dl

of plain flour
A little bit of milk for brushing
We like to not fill 2 horns and keep them for "afters" so - Filling for 4 horns (use whatever you'd like):
1/2 canned ham = 225 grams - chopped
3 rings of pineapple - drained well
1/4 red pepper - chopped
1/4 yellow pepper - chopped
12&

nbsp

;table spoons cottage cheese (3 per horn) - drained well
Directions:
Follow the directions from 'Skulebrød' until the dough has risen once to approximately twice its original size. Divide the dough in two halves and roll it out. Cut three triangles from each half. Put some ham, pineapple, pepper, and cottage cheese at the wide end of each triangle. Fold the corners of each triangle around the filling and roll it up toward the pointy end of the triangle. [I know that this is cryptic - but the end result should look like a horn…]
Put the horns on a baking tray covered in aluminium foil and/or sprayed with oil. Cover the horns with a tea-towel and leave them to rise another 10-15 minutes. Turn on the oven and set it to 225 celsius. Bake the horns for 20-25 minutes in the middle of the oven.
Before serving, leave the horns on a rack to cool down. We ate them too soon and burned our mouths.
[This is where I would have added before- and after-photos, but the shutter speed on our camera is no match for Rob's hunger. The horns were all gone before I could get a photo…. see: here is the empty plate!!]