01/29/11
Filed under:
- Lamb
,
- A normal day
Posted by:
Rob
@ 9:10 pm
Hild and I fancied something a bit different and they didn't have any re-heat Indian food in the shop so I got "volunteered" to make Rogan Josh - red lamb stew. Since we were already in the shop at the time, I had to guess what we needed, but apart from ginger, garlic and onions (and the lamb) we had all of the spices so we were good to go. I thought it would take quite a while, but actually it was only about an hour and a half so it worked well. This recipe comes from a book by Madhur Jaffrey - a TV cook from the UK.
Ingredients (2 people)
6 cloves of garlic
2 x 1 inch cubes of peeled ginger
vegetable oil (for frying)
300 grams lamb (1 leg chop) cut into 1 cm cubes
10 whole cardamom pods
2 bay leaves
6 whole cloves
10 peppercorns
2 inches of cinnamon stick
2 medium sized onions, finely chopped
1 teaspoon ground coriander seeds
2 teaspoons ground cumin
6 teaspoons red paprika
1 teaspoon salt
6 tablespoons plain yoghurt
Directions
This looks like a long list, but it gets used in chunks so I will explain in steps.
Mince garlic cloves and ginger in blender with enough water to make a paste. It doesn't have to be smooth, but this is a good way to get it pretty finely chopped as you don't want bits in the final dish.
Photo: minced garlic and ginger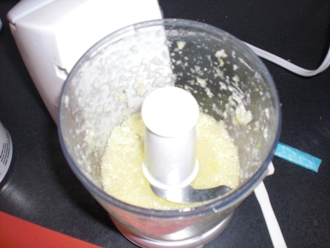 Brown the cubes of lamb in the vegetable oil in a heavy pan over a medium high heat. It is good if the pan is wide because a lot of stuff gets fried in here, but it isn't then end of the world if not. Remove the browned lamb cubes and keep them (and the juices which come out of them) for later.
Photo: cubed lamb - before browning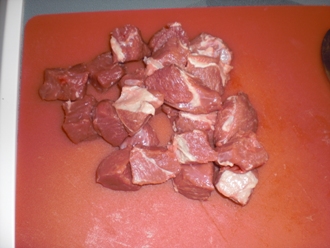 Keep the oil pretty hot and throw in all of the whole spices (cardamom, bay leaves, cloves, cinnamon and peppercorns) for a few seconds until they swell and the bay leaf begins to brown. This probably only takes 15-20 seconds so be ready with the next ingredients.
Photo: whole spices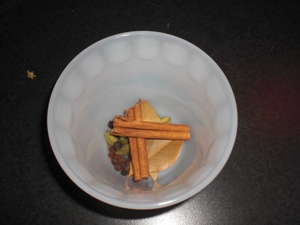 Photo: frying whole spices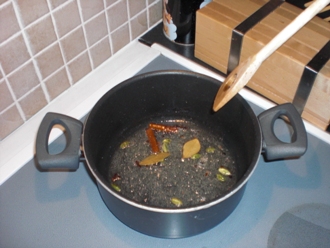 Add the chopped onions and fry these for a good five minutes. This is Indian food so the onion is supposed to get brown - this gives colour to the dish as well as adding to the flavour.
Photo: frying onions - let them get a lot browner than this before the next step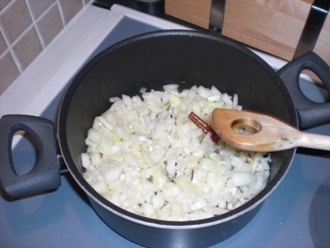 Add the garlic/ginger paste and fry for about a minute. Once again, a bit of colour doesn't do any harm.
Add the ground spices (cumin, coriander and paprika) and salt and fry this for another minute. Things get quite sticky now, but don't worry if bits stick to the bottom of the pan because this builds the flavour. This does not come out too spicy as the paprika we used is pretty mild. Be careful not to replace paprika with chilli powder - they aren't the same! You can spice this up with some chilli powder or tabasco sauce, but I think it shouldn't be too hot or you lose the other spice flavours.
Add the lamb and any juices which came out of them and fry these for a minute to get them well coated in the onion/spice mixture.
Add the yoghurt one tablespoon at a time, mixing each one in well. The idea here is to blend this in without it separating, it probably won't work perfectly, but it doesn't affect the flavour. Once it is all mixed in, stir fry for another couple of minutes, then add about 1/2 a pint of water to make quite a thin sauce. This reduces as it cooks and the onions thicken it.
Photo: simmering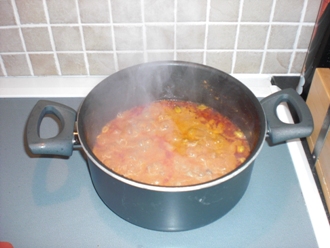 After this comes to a boil cover with a lid, reduce the heat and simmer for about an hour. Then bring it back up to the boil to reduce the sauce (if needed) until it is quite thick. While you are reducing the sauce, this is a good time to prepare rice or whatever you are having (naan bread is good). Hild makes great basmati rice so I'll add her recipe here (and claim the credit).
Basmati rice (boiled)
Rinse 1 cup of basmati rice in cold water, then put it into a pan (with a decent lid). Add 2 cups of boiling water and one teaspoon of salt and bring to boil. Then put the lid on the pan and turn the heat down to minimum setting for 10 minutes. After 10 minutes, remove the pan from the hot plate, stir the rice once and put the lid back on for another 10 minutes.
Raita
As a relish, we made our own raita with plain yoghurt and concentrated mint sauce - 1 teaspoon of mint sauce into 7 or 8 of yoghurt. The concentrated mint we have already has a lot of sugar, but you might like to sweeten it if you can't get this as the slightly sweet yoghurt can tone down the spices. Sometimes we grate cucumber into this, but not tonight.
Photo: finished article - ready to eat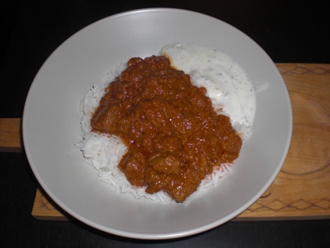 A quick note: The whole spices get left in during the cooking, but you can take them out before serving/eating. The bay leaves and cinnamon are easy to find, but the cardamom pods and whole peppercorns are a bit more difficult. Just warn your guests to look out for them!