12/23/10
We hadn't planned to make a Norwegian Christmas dish this year but then, after a chat with both Adelheid and Kristin, we changed our mind. We ran to the butcher down the street to see what he could do for us in terms of salted and smoked meat. While we secretly hoped for lamb, we struck out and came out with a partial leg of pork (as expected).
Ingredients (4-6 people):
600 grams salted and smoked ham on the bone (should have been lamb, but such is life)

600 grams rutabaga peeled and cut into slices about 1cm thick (yellow turnip)

7 tablespoons of plain flour

However many lefse (soft tortillas) you plan to eat

Optional depending on taste: one Knorr stock cube any flavour

Optional depending on taste: 1 tsp salt

Optional: However many of boiled potatoes you plan to eat
Directions:
Boil water in kettle and transfer to pan. Put ham (or lamb) in the water and boil for 2.5 hours. When ca. 40 minutes remain, add the sliced rutabaga to the pan. When the rutabaga is cooked, remove the meat and the rutabaga and keep them warm until serving. Mix the flour into the cold milk and add to the pan. Boil the soup for about 10 minutes longer. Add stock cube and/or salt to taste.
Serve hot soup in a bowl and - if you are not uncouth - meat, rutabaga, lefse, and potatoes on a side plate. Rob and Hild have no couth and therefore add everything to the soup bowl and even dip their lefse in the soup! Honestly, how bad can they get?!
Photo: The meat boiling in the pan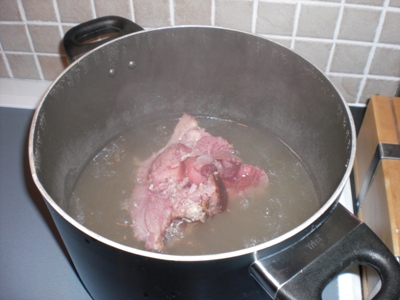 Photo: The sliced rutabaga added to the pan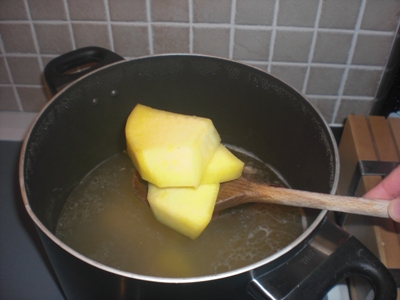 Photo: The milk has been added - nepespa nearly ready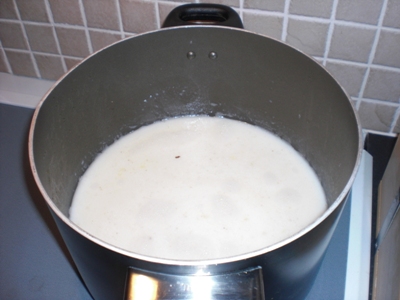 Photo: Dinner is ready!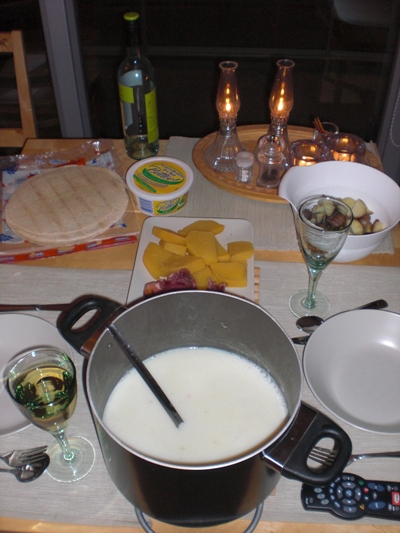 12/14/10
Ingredients - dough:
60 grams yeast (or one bag of dried yeast)

500 grams plain flour

1/2 teaspoon ground cardamomme

90 grams sugar

125 grams melted butter

3 and 3/4 dl luke-warm skim milk
Ingredients - filling: soft margarine/butter spread; sugar; cinnamon; and raisins
Directions:
Mix yeast, some sugar, and a little luke-warm water in a small bowl. Leave this to stand until it becomes frothy. Mix flour, cardamomme, and sugar in a bowl. Add melted butter, 3 dl of the luke-warm milk, and the yeast mixture to the bowl. Mix well and add more milk or flour until the dough is firm but still a bit sticky.
Leave dough in a warm place with no draft for at least 30-60 minutes until it has risen to twice its size.
Use a rolling pin to roll out the dough to a layer that is as long as you want the Kringle to be and less than 1/2 cm thin. Spread some soft margarine/butter spread and sprinkle sugar cinnamon and raisins. Roll the dough as shown on the photo and place it in a circle on the baking sheet. Starting at one end, use a pair of scissors to cut 1-2 cm wide wedges and fold to the left and right all around the circle to make the garland pattern.
Leave the Kringle to rise for 30 minutes then brush some milk over the surface. Bake in the middle of the oven at 190 celsius for 30-40 minutes. Once it has coooled down, brush a thin layer of icing over the Kringle. - then enjoy!
Janet (Hild's mum) keeps telling us that left-overs keep really well in the deep freezer and a short time in the microwave does the trick when you need a snack one day. We, however, have no idea if it works because we haven't had any left-overs yet!!
Some photos:
Photo: Rolling out the dough…. (Doing it again, I would have rolled it thinner/wider to get more cinnamon-swirls in the final product)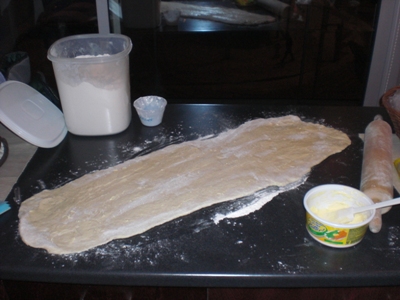 Photo: Cake ready for cutting the garland-pattern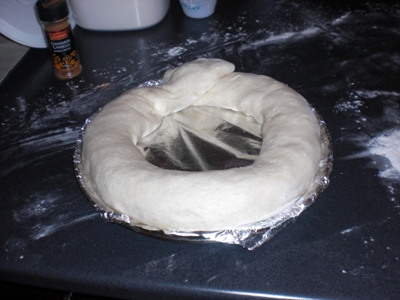 Photo: Cake with garland-pattern ready for baking.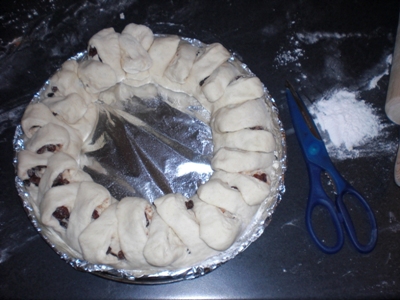 Sorry - no after-baking photo as we ate it before we got the camera out!
Comments Off