04/03/10
Happy Easter means yummy hot-cross buns…. So here is our favourite recipe (a la Delia)
Bun ingredients:
Yeast mixture = 1 level tablespoon dried yeast (traditional not easy-blend) + 1.5 dl hand-hot water + 1 teaspoon sugar

500 g plain flour

1 level teaspoon salt

1 rounded teaspoon mixed spice (we use apple pie spice mix in US/Canada)

75 g currants

50 g sugar

0.5 dl hand-hot skim milk

1 beaten egg

50 g melted butter
Cross ingredients:
Glaze ingredients:
2 tablesppons sugar

2 tablespoons water
Directions
Make yeast mixture and set aside to develop a nice frothy head

Mix: flour, salt, mixed spice, sugar, and currants

Make a well in the dry mixture and add: yeast mixture, milk, beaten egg, melted butter

Mix the wet and dry ingredients gradually together and work into a smooth dough

Leave dough to rise for about 1 hour in a warm spot
[1 hour passes… = drink at least one bucket of tea!]
Knead the dough down to original size and make 12 buns

Cut a cross in the buns or use the 'cross ingredients' above to roll out strips and attach to the buns

Place on sprayed baking sheet and leave buns to rise again

Preheat oven to 220 Celsius (420 Fahrenheit)
[ca. 30 minutes pass…. = more tea?]
[ ca. 15 minutes pass… maybe save the bucket of tea to enjoy with the finished buns?]
Now just enjoy a bun or 5 with yet another bucket of tea!!
And, as usual, some before and after photos. We tried to make the 'cross' both with a pastry dough and with simply using a knife and cutting deep grooves in the buns before baking them. Both works although the pastry dough approach is more visually pleasing, right?: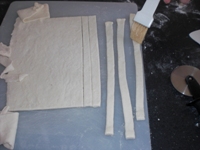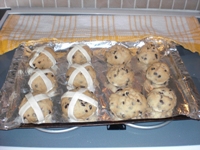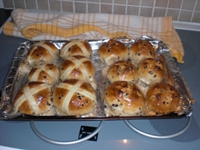 Comments Off