08/17/10
Filed under:
- A normal day
,
- Bread
Posted by:
Hild
@ 7:46 am
We had no excuse really - other than that it was Sunday and we were a bit bored and wanted to cook/bake something. The fact that this was a very yummy snack or meal (depending on how many buns you munch) is just a bonus.
Ingredients:
20 grams butter (could also use 1/4 dl oil)
2.5 dl water (could also be milk)
1 rounded teaspoon dry yeast
1/2 teaspoon salt
1 teaspoon sugar
ca. 6-7 dl of plain flour
A little bit of milk for brushing
Filling (made by Rob - so imperial not metric measurements):
1/2 pint custard
2 tablespoons custard powder
1 tablespoons sugar
Optional (we're not keen but Norwegians generally are): Icing and grated coconut to glaze the buns
Directions:
Mix the yeast and sugar in a small bowl together with some of the water heated to about body temperature. Make sure the yeast is fully dissolved and leave it until it has a frothy surface. Add the yeast mixture together with the melted butter, the rest of the water, and the salt. Stir well while gradually adding the flour. Without working the dough too much - continue mixing/kneading until it doesn't stick to the bowl anymore. Sprinkle some more flour on the dough, cover it and leave it to rise in a warm place.
Wait for a while… After 30-45 minutes the dough should be twice its original size.
Use some more flour to knead the air out of the dough and make 8 buns (or more or fewer depending on how big you like your buns….). Put the buns on a baking tray covered in aluminium foil and/or spray it with oil. Cover the tray and leave the buns to rise another 10-15 minutes. Turn on the oven and set it to 220 celsius.
While waiting, make thick custard and let it cool down. In Norway we would use thick vanilla cream, but in its absence Bird's Custard is great.
Use your fingers or a spoon to make a dent in the middle of each bun. Put as much custard in each bun as you would like without it running over the sides. Brush a little bit of milk over all the buns.
Put the tray in the middle of the oven and bake the buns for 10-12 minutes. When they are done, take them off the tray and let them cool down on a rack. Once they are cool enough you can use the icing and grated coconut to glace the buns - or just proceed to the munching as we prefer!!
Some photos of the yummy stuff!
The buns before baking: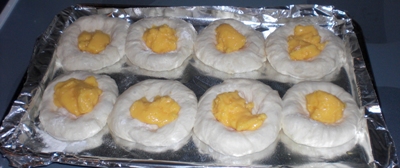 The buns after baking: