02/14/11
After having a really nice rack (of lamb) at a hotel a week or so ago, we found some nice lamb in Costco so I dug around on the internet for decent-looking recipe. There were quite a few - all generally similar, but with their own quirks. So I sort of combined the general approach with what sounded good to me. This is not really much different to any standard recipe, but we enjoyed cooking it - and eating it afterwards!
Ingredients (2 people)
1/2 cup fresh bread crumbs

2/3 cloves of garlic (peeled)

2 teaspoons dried rosemary

2 teaspoons dried sage

1 teaspoon salt

1/4 teaspoon black pepper

2 tablespoons olive oil

1 (8 bone) rack of lamb, trimmed and frenched

2 tablespoons olive oil

2 tablespoons honey Dijon mustard
Directions
Chuck the breadcrumbs, garlic, herbs, salt and pepper into a blender and blend for 20-30 seconds until the garlic is well minced. Add a couple tablespoons of olive oil and blend again so the breadcrumb mixture is moist.
Photo: Rack cut and stood up - as it will be in the oven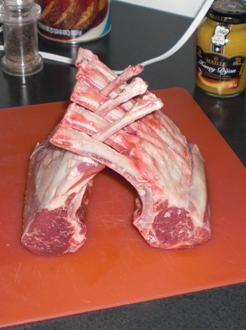 I cut the rack of lamb into two similar sized pieces so that they would be easier to cook and serve and then seared the sides in the rest of the olive oil in a heavy frying pan. Go round all sides of the rack, except the bones, and get some colour on the meat. Then brush the lamb with the honey mustard, making sure it is well covered, before coating the lamb in the breadcrumb mixture.
Photo: Brushing lamb with mustard….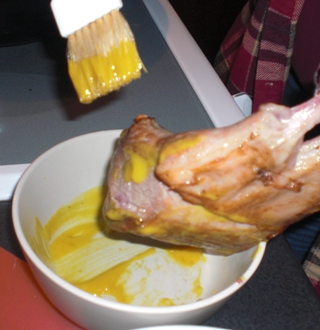 Photo: …and coating with breadcrumbs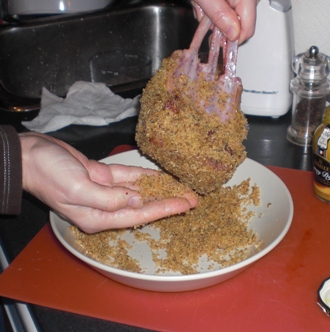 Arrange the racks standing up by interleaving the end of the bones in a heavy oven dish. If the frying pan is oven proof, people often use that. You can also put the racks bone side down if they have not been "frenched", i.e. if the ends of the bone have not been exposed. Cook the racks in a very hot oven - 450 F (230 C) and make sure the oven is hot before you put the lamb in. Cook for about 20 minutes for rare or use a meat thermometer - 135 F came out pretty rare and we like it that way.
Photo: Out of the oven - ready to eat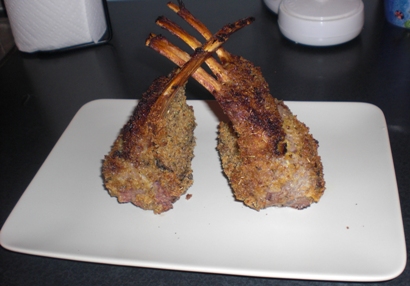 The recipes all say to let it rest for at least five minutes before eating - some say to rest it even longer (up to 15 minutes). They are certainly hot at this stage so it might make sense just for that. The cleaned bones make this easy to eat with your fingers after you cut them - they are usually served cut down between the the bones. There is usually some kind of sauce as well - a red-wine reduction is common if you want to go that far. Hild made a nice mushroom sauce and we had potatoes, carrots and turnip chunks roasted in olive oil - yummy!
Comments Off