02/08/10
Filed under:
- Vegetables
,
- A normal day
Posted by:
Hild
@ 9:12 pm
In spite of gnocchi being our favourite Italian dish, we have never tried to make it ourselves. So everything could potentially go wrong here!! The recipe in our Tuscan cookbook calls for 'waxy' potatoes and not the 'starchy' kind. Various internet sites say the complete opposite. What to do??? Our local shops typically let us choose between 'white', 'red', 'Yukon Gold', and maybe 'Russet Burbank'. So we got a couple of white, Yukon, and reds and went to work – scientifically like!
Our bottom-line finding is that we'd eat this again (Nam Nam) although we would need a real Italian to tell us if there is a real difference between the potatoes we tried. Still, in the name of science, we forced ourselves to rank the results from 'best' to 'worst':
Hild's ranking: white, red, Yukon

Rob's ranking: white, Yukon, red
Not surprisingly, we ran a sideshow science experiment to measure which potato has the most or least starch. If you are as nerdy as we are, you will want to scroll to the bottom of this blog entry to see the starch experiment involving: Betadine solution (=Iodine), straws (=pipettes), shot-glasses (=test-tubes), and inkjet-paper (=Iodine test strips).
Now back to the recipe…
---
Ingredients:
Directions:
Boil potatoes until they are cooked through but before they collapse (about 15-20 minutes in this case).

Spray an oven proof dish and pre-heat it in the oven at 150 Celsius.

Put the potatoes through a ricer (or through a sieve for those of us who don't have a ricer).

Mix potatoes, flour, butter, and salt and knead the dough for 5 minutes.

According to our recipe it says that it is important to knead it for that long but no longer.

Roll the dough into sausages that are 1 cm in diameter, and cut them into 2.5 cm long pieces (only Hild needs to use a ruler).

Use more flour if the dough is too sticky.

We found that the Yukon potatoes needed a little bit more flour than the white and red.

To poach the gnocchi, bring salted water to a rolling boil in a pan that is at least 6 cm deep.

Add gnocchi pieces to the boiling water making sure that there is enough room for all of them.

They shouldn't lie on top of each other or stick to each other.

Make sure that the water boils but not too violently.

Once the gnocchi float to the surface, poach them for 1 more minute, then remove them from the pan and put them in the pre-heated oven-proof dish.

In total we had to poach them for about 5-7 minutes.

As soon as possible, serve with olive oil, freshly ground pepper and grated parmesan cheese – or with a tomato sauce of your choice.
Some side notes. We only had 400 grams of red potatoes and reduced the other amounts to 150 grams of plain flour and 40 grams of butter. This may have had an impact on dough consistency and the end product. Also, the dough from the Yukon potatoes wasn't as smooth as the others and needed more flour to not stick to the counter. While we saw the excessive kneading as a bit of a gimmick it actually seemed to give the dough a better consistency.
Here are some photos from the process:
Ricing, mixing, kneading….



Cutting, cutting, poaching



The potatoes and their respective gnocchi below: white, Yukon Gold, and red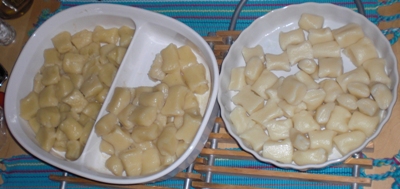 ---
Sideshow Science Experiment
Hypothesis: The three potatoes have different amounts of starch, which correlate to gnocchi conistency.
Methodology: The cooking-related aim of the starch science experiment was to measure which potato has the most starch compared to the others. Starch binds iodine and turns it blue. It is not possible to get a good reading comparing which potato turns more blue than the other, but we can measure which potato binds more of the iodine (because it has more starch). The remaining iodine stays in the water solution available to turn blue with the cellulose (starch) in the paper.
Process:
Mix 1 part 1%-iodine (Betadine or similar) with 10 parts water in 3 labelled shot-glasses.

Measure 3 equally-sized pieces of raw potato. Mash the pieces with a mortar and pestle and add them to each their shot-glass.

Shake the liquid in the shot-glasses to mix well.

Wait until potato starch has bound the iodine from the solution and turned blue.

Cut 3 pieces of inkjet-paper and lower them into each of the shot-glasses and leave them to soak up remaining iodine.

Remove inkjet-paper-pieces and put next to labelled shot-glasses.

Compare the level of blue on each paper.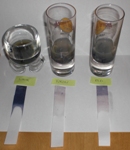 The photo shows that the paper turned more blue from the white potato solution (left), less from the red potato solution (right), and least from the Yukon potato solution (middle).
Science Result: The Yukon potato (known as a starchy baking potato) appeared to have the most starch and the white potato has the least starch and is therefore the waxiest. Unfortunately, we could not detect different consistency in our gnocchi, so the correlation to starch content could not be determined in this experiment. Therefore we cannot reject the hypothesis.
Cooking Impact: According to our Tuscan cookbook, the best potato for gnocchi is a waxy one – like the white potato followed by the red and then the Yukon. Various internet blogs tells us that the starchy potatoes are best for gnocchi so the Yukon potatoes should have been best, followed by the red and then the white. The question is – does any of this make a blind bit of difference? We think not! It is all Nam Nam.
…but thanks for reading anyway….
Rob & Hild