03/23/15
Filed under:
- A normal day
,
- Bread
Posted by:
Hild
@ 1:51 pm
Ingredients:
2 1/4 teaspoons dry yeast
1 dl warm water
1 teaspoon of sugar
-
50 grams butter or oil
4 dl (skim) milk
1 teaspoon salt
1 teaspoon sugar
Ca. 750 grams plain flour
-
+ For garlic knots: crushed garlic cloves + melted butter
+ some more milk for brushing
Directions:
Proof the yeast by stirring it vigorously with warm water and sugar in a small bowl (water ca. 37-45 degrees Celsius). Cover the bowl with a towel and leave it for up to 10 minutes until it has a frothy top.
Mix the yeast with all ingredients other than the flour. Sift in the flower while mixing - making sure you don't work the dough too hard or too long or you will struggle to make it rise later. Cover bowl with towel and leave in a warm place (no drafts) to rise to twice its original size. Rule of thumb is to leave it to rise for max 3 hours. If it still hasn't risen your yeast was probably "dead" before you started or you used too hot water to proof it thereby "killing" it. Divide dough into about 25-35 pieces depending on preferred size.
Roll each piece into to a smooth bun shape. Sometimes we make them into knots instead of plain rolls by rolling strips of dough and folding them into a knot (see photo below). For a flavourful twist, we sometimes flatten the the strips with a rolling pin and spread a mix of garlic and butter on them using a brush. Then we roll up the strips and shape them into knots again (see photo).
Place rolls/knots on a greased or non-stick baking sheet. We like when the rolls/knots batch or rise to touch each other so place them quite close together. Cover with a towel. Preheat oven to 250 degrees Celsius. For second rising, leave them for at least 30 minutes in a warm place (no drafts). Brush the rolls with room-temperature milk and bake in the middle of the oven for 8-10 minutes until light brown.
Enjoy, and keep in mind that these can be frozen for future enjoyment…
Photos:
Spreading garlic/butter mix on dough - before tying them in knots!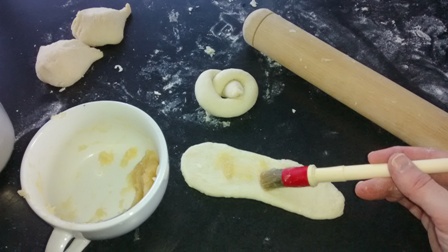 The only knots left the next day…