10/06/12
Filed under:
- A normal day
,
- Bread
,
- Breakfast
Posted by:
Hild
@ 9:00 am
This weekend we wanted to have a ploughman's lunch in stead of dinner. We were trying to save space for Thanksgiving-level eating the rest of the weekend (Happy Thanksgiving, Canada!). Our neighbour brought the cheese and wine and we supplied a range of cold sandwich meats, smoked salmon, and various vegetables. The final item was bread…. so why not make a damper, we thought. We dug out the first damper recipe we got while living in Australia. It isn't very authentic as the stockmen in the outback would not have carted around potatoes, butter or Italian herbs. It is also unlikely that they would have had access to milking cows. How about milking camels? (ho-hum):
Ingredients (size = 25 cm diameter):
1 cup mashed potatoes
3 cups self raising flour (or add baking powder to plain flour)
2 tablespoons Italian herbs (f.ex. mix of dried oregano, basil, garlic, bell peppers, onion, salt, sugar)
1/4 teaspoon salt (unless there is salt in the herb mixture)
1/2 teaspoon pepper (unless there is pepper in the herb mixture)
2 teaspoons butter/margarine (maybe use this to make the mashed potatoes?)
1/2 cup of skim milk
Directions:
Preheat oven to 220 degrees Celsius. Mix flour, herbs, salt, and pepper. If you didn't use butter/margarine to make the mashed potatoes, use your hands to rub the butter/margarine into the flour mixture. Stir in the mashed potatoes and enough skim milk to make a sticky dough. Use hands to knead the dough until it is smooth. We often make it round and cut two 1.5 cm deep cuts in it to divide the loaf into 8 pieces before baking.
Bake at 220 degrees Celsius for 10 minutes. Turn down the temperature to 180 degrees Celsius. It is a good idea to let the hot air out to cool the oven quicker. Bake for 30-35 minutes. Tap the bottom of the loaf. It is done if it sounds hollow. Let the loaf rest before cutting. Cut into wedges and serve - for example with a ploughman's lunch.
Here is a before photo: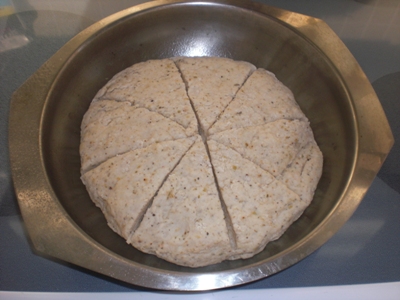 And as usual we forgot to take the after photo and there was only one small wedge left: