05/06/12
Filed under:
- A normal day
,
- Bread
,
- Egg
Posted by:
Hild
@ 10:04 am
Another recipe from Janet's (mum's) collection. 10-øreskaker (with the current exchange rate to Canadian Dollars) translates to 2-cent cakes. This is not the cost of making or buying them anymore! Some may call them a sweet buttermilk scones. But I don't know quite what to call them in English. Rest assured that they are delicious, and freeze well to be defrosted quickly in the microwave for that sudden urge for something sweet with your cup of tea or coffee or mug of milk.
Ingredients (120 cakes… so I often make half of this)
500 grams butter
1 litre butter milk
500 grams syrup (corn syrup worked well)
50 grams ammonium bicarbonate (sometimes sold as "harts horn" or in Norway - "hjortetakksalt")
700 grams sugar
ca. 1 litre plain flour
Directions
Preheat oven to 220 degrees celsius. Mix milk, melted butter and warm syrup. Add the dry ingredients. Add flour gradually until the dough is firm enough to be rolled with a rolling pin. Use a glass or a large cookie cutter to cut the cakes from the rolled-out dough. We choose a smaller glass to make the cakes more to our preferred snack-size (see photo). Put on baking sheet above the middle of the oven and bake for 7-9 minutes. Leave cakes to cool down. Serve as is or with a bit of butter/spread and maybe even a slice of Jarlsberg cheese brunost (goat cheese sometimes sold in North America as "Skiqueen") and/or jam. Nam Nam.
Note that we have struggled to find ammonium bicarbonate outside Europe, but yesterday we stumbled across it in one of the Loblaws grocery shops here in Ottawa. It is sold in a small 30 gram plastic container with screw-top lid and our excuse is that it was partially hidden behind a large box of baking soda. In desperation we have in fact tried to make 10-øreskaker using baking soda and baking powder, but they don't produce that nice fluffy middle, and there is often a not so charming taste of baking soda. Be warned that baking with ammonium bicarbonate does NOT make for a yummy dough to nibble before baking (bummer) - and it makes for smelly fumes in the kitchen so keep your windows open. Also, don't open the oven door and stick your head too close to check out how they are doing… the fumes are quite unpleasant. Luckily the smell dissipates quickly leaving only delicious fluffy snacks. Enjoy!
Photo 1: Cutting the cakes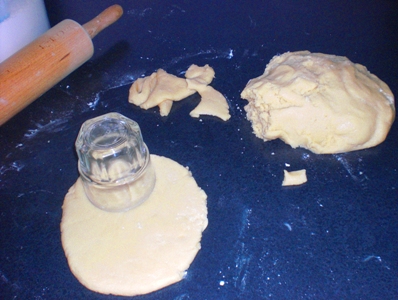 Photo 2: Ready for snacking!